Developed a TRO sensor and an Intrinsically Safe Explosion-Proof Technology
Doubly Honored to Win the Presidential Award and Receive the New Excellent Technology Certificate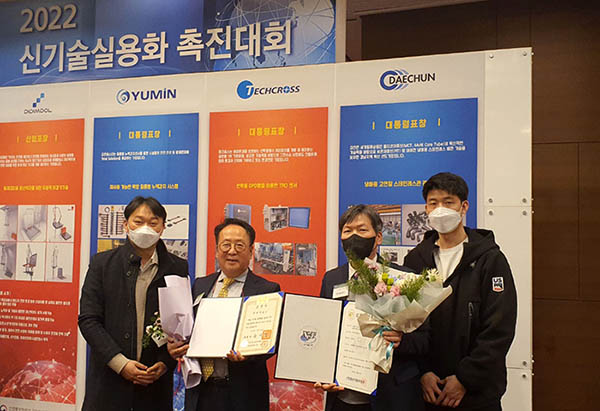 Techcross, the global No. 1 BWMS maker, announced on December 20 that it won the Presidential Citation at the '2022 New Technology Commercialization Promotion Contest'. The contest was held to advertise new technologies of Korean companies and promote the sales of excellent products. Techcross won the Presidential Citation in the New Technology Commercialization section as its achievement to open up a market for its total residual oxidant (TRO) sensor for the past year after it was certified as a New Excellent Product (NEP) by Korean Agency for Technology and Standards in 2021.
Also, Techcross got its TRO sensor technology to which an intrinsically safe explosion-proof system is applied, certified for a New Excellent Technology (NET) on the same day at the New Technology Commercialization Promotion Contest. It successfully applied an intrinsically safe explosion-proof system to the TRO sensor that received the Presidential Award, which is the first world record. Generally, pressurized type or explosion-proof enclosure type is used for TRO sensors. However, an intrinsically safe explosion-proof system is superior in terms of safety given that it intrinsically removes explosion risks by cutting off a source of ignition. To materialize this, Techcross has developed a technology that consumes the least amount of air and a non-electric dosing pump and applied it. Moreover, this new technology enables TRO sensing and accurate measurement even in very turbid water quality, which earns Techcross safety and credibility.
While the NEP certificate is the national certificate for an outstanding new product, the NET certificate is a system designed to discover an outstanding new technology developed by a company, research institute, or a university early on, certify its excellence, give credibility to the technology and promote its commercialization. Techcross said it was glad to be able to improve its customer credibility by winning the award, which officially recognizes the excellence of its technology in Korea.