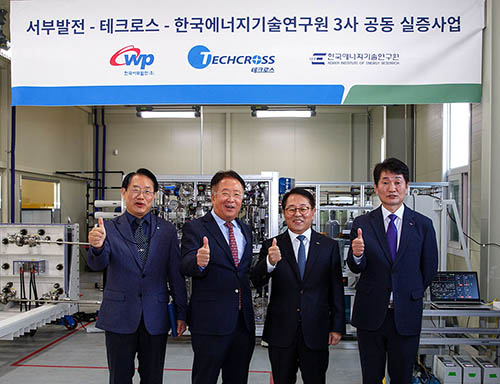 On October 28, Hyeong-deok Part, President of Korea Western Power, visited Techcross Gyeongin Research Center (Hydrogen Testing Center) located in Hwaseong City, Gyeonggi-do Province. He checked Techcross' core technology to produce green hydrogen and tried to find a way to collaborate with Techcross more closely.
After signing the Agreement for Collaboration on the Green Hydrogen Conversion and Integration Technology in September 2021, Techcross and Korea Western Power have conducted a pilot project together to build a water electrolysis system (50kW) by linking it to the solar photovoltaic power station (120kW) in Taean Power Generation Headquarters. The project aims to produce 1kg of green hydrogen per day. If this project is successful, both companies will conduct an additional pilot project to commercialize a 250kW system. Their ultimate goal is to acquire international competitiveness of an MW-scale water electrolysis system and contribute to the localization of such technology in Korea.
Hyeong-deok Park, President of Korea Western Power, said, "I have great expectations of Techcross as it actively researches to produce hydrogen energy in Korea, a country that is energy deficient. Korea Western Power will also cooperate with Techcross to develop the hydrogen industry as well as contribute to the vitalization of the hydrogen economy in Korea."
In addition, to promote their joint projects, both companies participated together in the "2022 Jeollabuk-do New Renewable Energy EXPO" held at Saemangeum Convention Center in Gunsan in September and the "2022 Green Business Week" held at COEX in Seoul in October. Through these events, they exposed themselves to various media outlets.
In the future, both companies will diversify their hydrogen business (water electrolysis, hydrogen hybrid power generation/hydrogen power generation, etc.) and expand their business areas into convergence and integration through continuous technical cooperation and joint demonstration/pilot projects. Through this endeavor, both attempt to become global leaders in the green hydrogen industry.