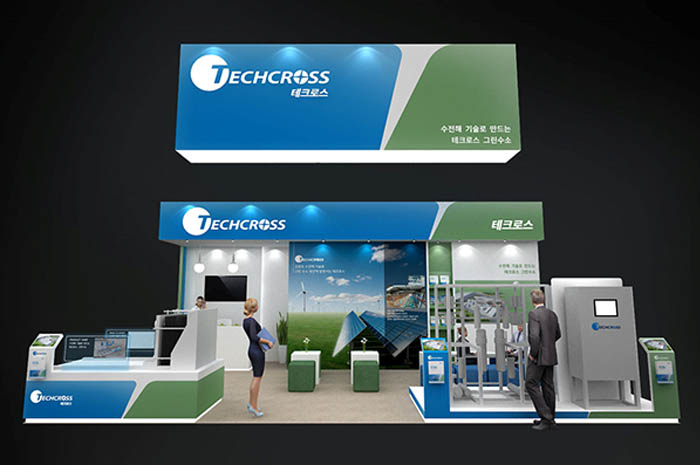 At the H2 MEET 2022 exhibition, Techcross presents a blueprint for green hydrogen R&D. This is the first time that Techcross, which boasts the world's No. 1 track record as a ballast water management system that protects the marine environment, presents the green hydrogen business, which is being carried out as a future strategic business, in public.
As Techcross manufactured and sold an electrolysis-type ballast water management system, it possesses the original technology for water electrolysis with excellent efficiency. Based on this, Techcross is focusing on research and development of water electrolysis green hydrogen production system as future energy that will contribute to achieving a carbon-neutral society in 2050. By introducing high-efficiency water electrolysis stack design technology from the Korea Institute of Energy, which has the best technology in the field of hydrogen in Korea, Techcross is developing large-capacity stacks and refining the technology by repeating demonstration projects through agreements with related organizations. In particular, Techcross is conducting water electrolysis using electricity generated from renewable energy power generation facilities in conjunction with Techcross Water & Energy and Techcross Environmental Services, which already have a strong position in the environmental industry. This method is characterized by having already secured a value chain that can produce high-purity green hydrogen with zero carbon emissions in the energy development process.
At this exhibition, Techcross will unveil models such as stack and BOP. For those who were curious about Techcross's full-scale hydrogen strategy, this exhibition seems to be a good opportunity to hear the answer.
The person in charge of this exhibition in Techcross expressed the company's aspirations to participate in the exhibition by saying, "If we have contributed to the marine industry with a sense of duty to contribute to mankind and the environment, now, as a comprehensive environmental company, we will become a top-tier company once again in the global hydrogen market beyond the domestic market through green hydrogen, which is in the spotlight as a core technology for the future," he said.
H2 MEET 2022, which had been held as H2 Mobility + Energy Show until last year, has been renamed H2 Mobility Energy Environment Technology and encompasses a wide range of hydrogen industry ecosystems. This exhibition will be held at KINTEX, Goyang-si, Gyeonggi-do from August 31 to September 3, and the Techcross booth will be located in Hall 9, L05.