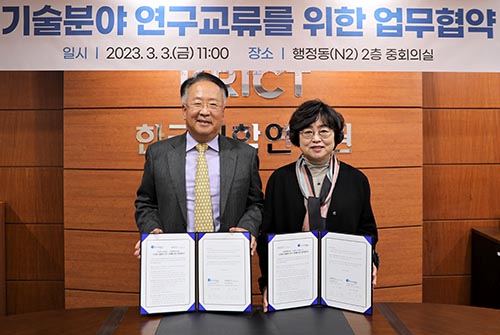 [Photo] MOU ceremony (L)Seogwon Park, President of Techcross (R)Mihye Lee, Chairman of KRICT
On 3rd March, Techcross and the Korea Research Institute of Chemical Technology (hereinafter referred to as KRICT) signed an MOU to localize water electrolysis technology, which is the core of the hydrogen industry for solving climate change problems and achieving carbon neutrality. With this agreement, the two organizations plan to promote mutual technology exchange and technology transfer related to membrane manufacturing technology from the first half of this year, and jointly conduct various research and development tasks related to water electrolysis materials in the future.
Following the recent announcement of Korean government's "Achievements in hydrogen economy and vision for leading hydrogen nation", there is a growing market interest in the production of green hydrogen through water electrolysis technology. In this situation, Techcross, the world's No.1 sales in BWMS based on electrolysis technology, plans to develop the world's best membrane technology owned by KRICT on a lab-scale and commercialize it through full-scale manufacturing technology.
It is expected to contribute not only to the growth of the national hydrogen economy and the achievement of carbon neutrality, but also to the advancement of research in the field of water electrolysis and the development of science and technology in Korea in the future.